Hello and welcome to another coaching video! This will focus on identifying and fixing a high draw shoulder. This clip was sent in last week, and I'm going to go through and give detailed feedback on how this archer can improve. Hopefully this will also help anyone else who also needs help in this area.
So before we get started, first take a look at the start of the video to see the technique video that was sent in.
For anyone that wants to get to the point, here is a quick overview: there are lots of great areas, and some areas to improve. Start by working on scapula movement and shoulder position using video feedback and doing repetitions with a band and shot trainer.
However, the useful information is in the detail, so now let's take a deeper look!
GOOD POINTS:
To start with let's look at the good points here, and there are lots of them!
> The posture is good, which is really important. You can see this best from the second angle in the video (Fig. 1). This is great to see.
> The draw elbow line is great! And I mean REALLY excellent (Fig 2). This is simply world class and will make a huge difference to accuracy in the long run.
> The bow is yellow, and this is always a plus…
> The general understanding of the shot is very good; the shot follows the key stages and has a good structure. You can tell that this is a really serious archer who is working hard to improve their shooting.
> This isn't something I say easily, but I'm sure that with more hard work and training, this archer can shoot very high scores. Possibly 680+ with lots of hard work!
Fig 1. Good posture
Fig. 2. Great elbow line
AREAS FOR IMPROVEMENT:
Now, let's break down the points that could be improved. I'm going to be very picky here and go through everything one by one. This will give the most detailed feedback and show you how I prioritise technical areas.
> There is quite a lot of tension in the upper traps and around the neck (Fig 3). You can see this most easily from the 3rd video angle. The creases in the neck are a classic sign of this.
> The draw shoulder is generally too high through the shot. Notice the position during the raising of the bow and setup (Fig 4).
> The bow shoulder looks slightly rolled (Fig 5).
Fig. 3. High draw shoulder
Fig. 4. High draw shoulder when raising
Fig. 5. Slightly rolled bow shoulder
> The vertical posture is slightly off (Fig 6). It appears as if the archer is stretching to the target very slightly.
> The head moves back during the expansion (Fig 7).
> There is a lot of arrow to expand through the clicker (Fig 8).
Fig. 6. Vertical posture
Fig. 7. Head movement
Fig. 8. Expansion length
> The bow hand position appears to be slightly too far around in the grip (Fig 9).
> The release comes away from the face initially and is too long (Fig 10).
> The leather on the tab is too large (Fig 11).
Fig. 9. Bow hand position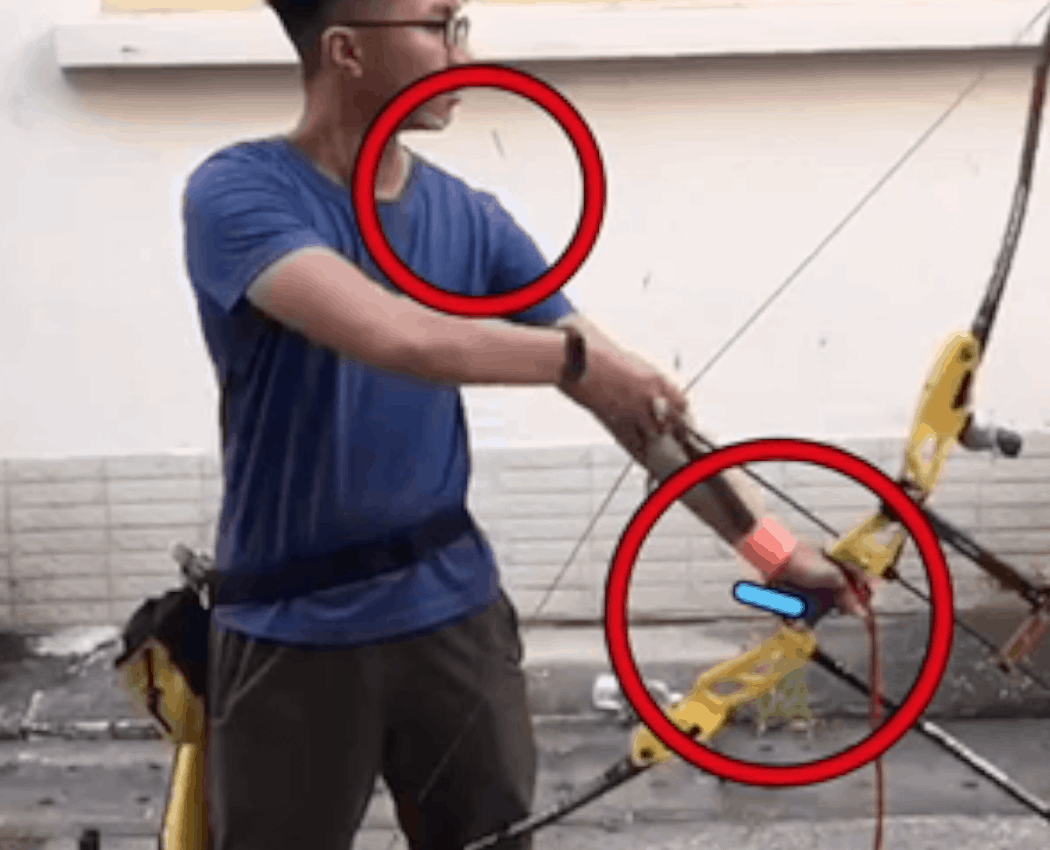 Fig. 10. Release direction
Fig. 11. Tab leather size
Let me be clear again. This archer has a very good shot already, and I'm being picky here because I want to help give as much detail as possible.
Now, how do we prioritise what to work on?
IDENTIFY THE 1 MAIN AREA TO IMPROVE (HIGH DRAW SHOULDER)
Now, I always like to ask myself two questions when it comes to working on technique.
If you could only improve one area, it would have to be the position of the shoulders and scapula movement. This will have a HUGE positive effect. In this case, this is also the answer to the second question. But this is not always the case!
WHY THIS AREA?
Improving the scapula positioning will:
> Actually lengthen the draw slightly, reducing the amount you need to expand through the clicker.
> Improve the posture. When you focus on getting the shoulder blades more flat against the back of the ribs, you won't be able to roll the shoulders.
> Make it less likely you need to move the head during expansion.
> Improve the release length and distance from the neck.
HOW TO IMPROVE THE HIGH DRAW SHOULDER
First we have to identify what is causing the upper traps to be tense and the draw shoulder to be high, then we can make a plan to attack this.
WHY IS THE DRAW SHOULDER HIGH?
> Losing the core at setup.
> Lack of strength.
> Trying to completely set the hand into the grip too early (causing bow shoulder tension).
> Draw shoulder too high during raise and setup.
LEARN THE CHANGE OF FEELING:
> Delay feedback with tripod and phone/tablet. No shirt watching shoulder/neck tension.
> Watch three things: the crease in neck, how much the shoulder blades stick out and tension in upper traps.
> Start with band with your hands. Then also do this with a shot trainer attached to the band.
> Try shot trainer on your bow, and just see if you can get this lower position.
TRAIN THE CHANGE OF FEELING:
> Lower arrow volume to 75% of what it was.
> During the activation stage of your warm up make sure to do specific exercises for what you're working on. In this example, internal/external rotations, wall pushes and especially wall angels are great exercises to include.
>  Start your sessions with 50 draw ups with elastic band using shot trainer and 50 with fingers. Use video feedback with this and CONTROL on the draw down too!
> Shoot at close blank boss to start and finish sessions (1/3 of your volume each time). Do the other 1/3 of your volume at 30m.
> On Monday, Wednesday and Friday do one of your close blank boss sessions with eyes closed shooting.
> On Tuesday, Thursday and Saturday do one of your close blank boss sessions with the hand along neck drill and arrow in elbow drill on alternate ends.
> On Monday, Wednesday and Saturday do shot trainer bow training. 20sec hold/40sec, 6 reps. 3 sets. 2 minute rest between sets.
> Use video feedback on every session for 3 weeks. Then remove 1 day of video feedback for every subsequent week. So after a total of 9 weeks you won't be reliant on video feedback.