What is an 'Expansion Trainer'?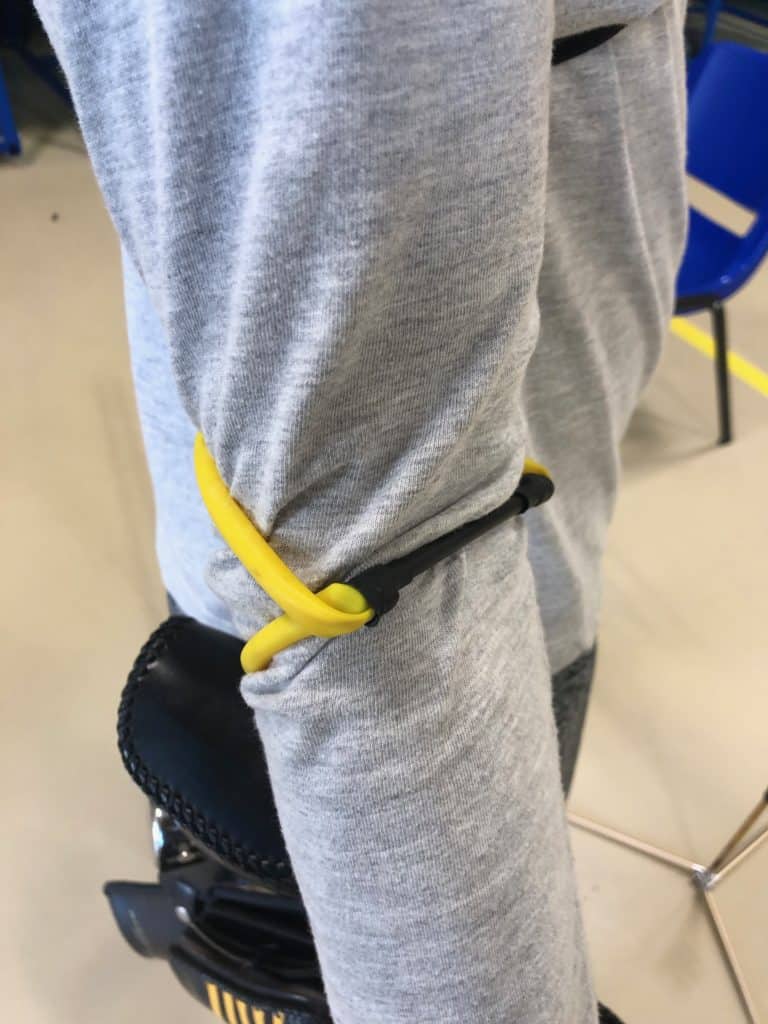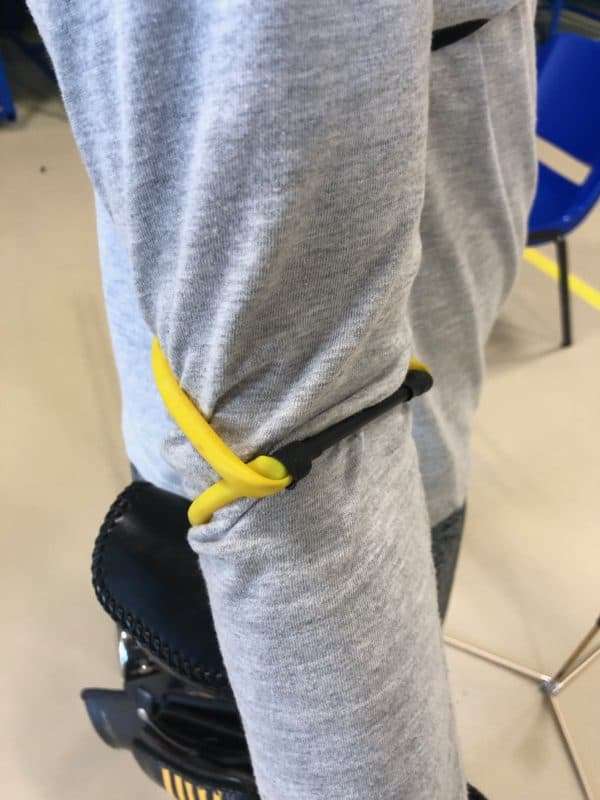 An 'expansion trainer' is the name we give to the simple device pictured in Fig. 1. It's made from a thin rigid part which goes into the inside of the elbow joint. This is held in place by two pieces of elastic. In this example the central part is made from a piece of a broken arrow and the elastic is from a piece of yellow Theraband.
You may have seen this device already in our Arrow In Elbow Drill. As this drill describes, it gives you great feedback during your draw and expansion and allows you to feel the correct direction of movement more clearly. As you expand you should focus on the feeling of squeezing the arrow.
This device is something that almost every young Korean archer uses when they begin their career. You often see groups of school kids using them all together. This is because it is a great training aid. Use it in your training, especially to work on your expansion.
Now we'll show you how to make an Expansion Trainer that you can use in your own training.
MAKING YOUR EXPANSION TRAINER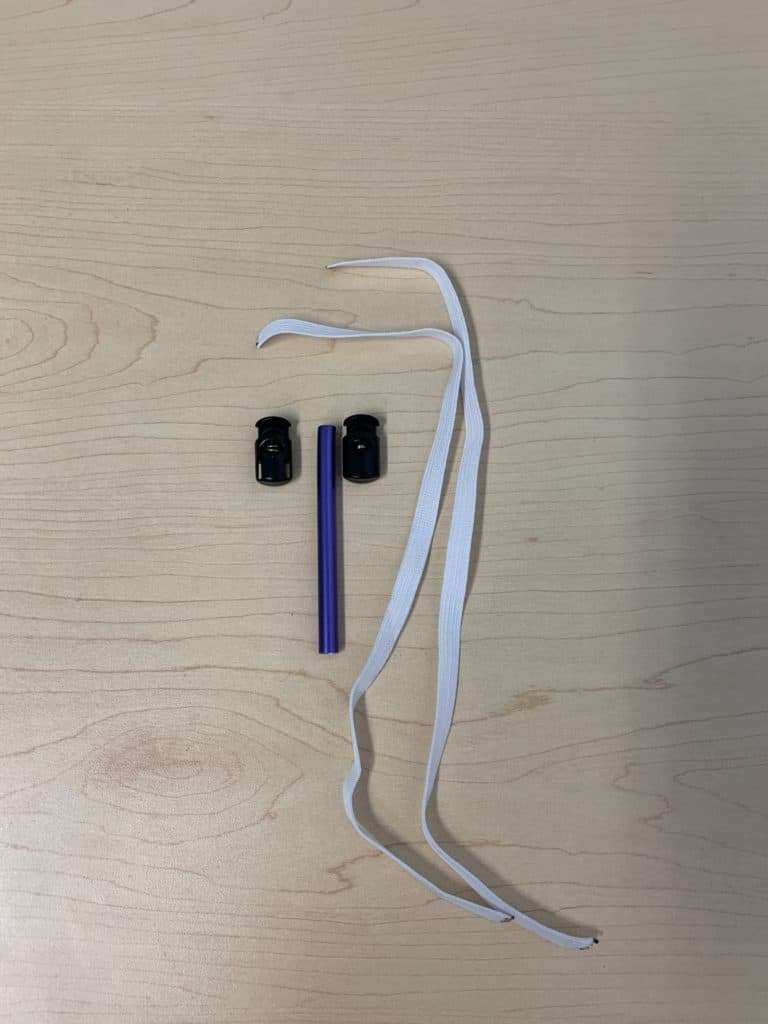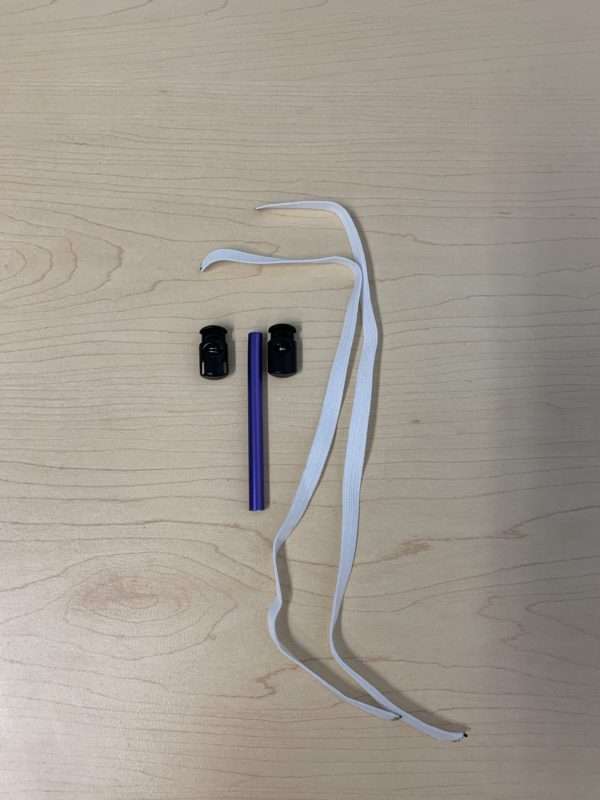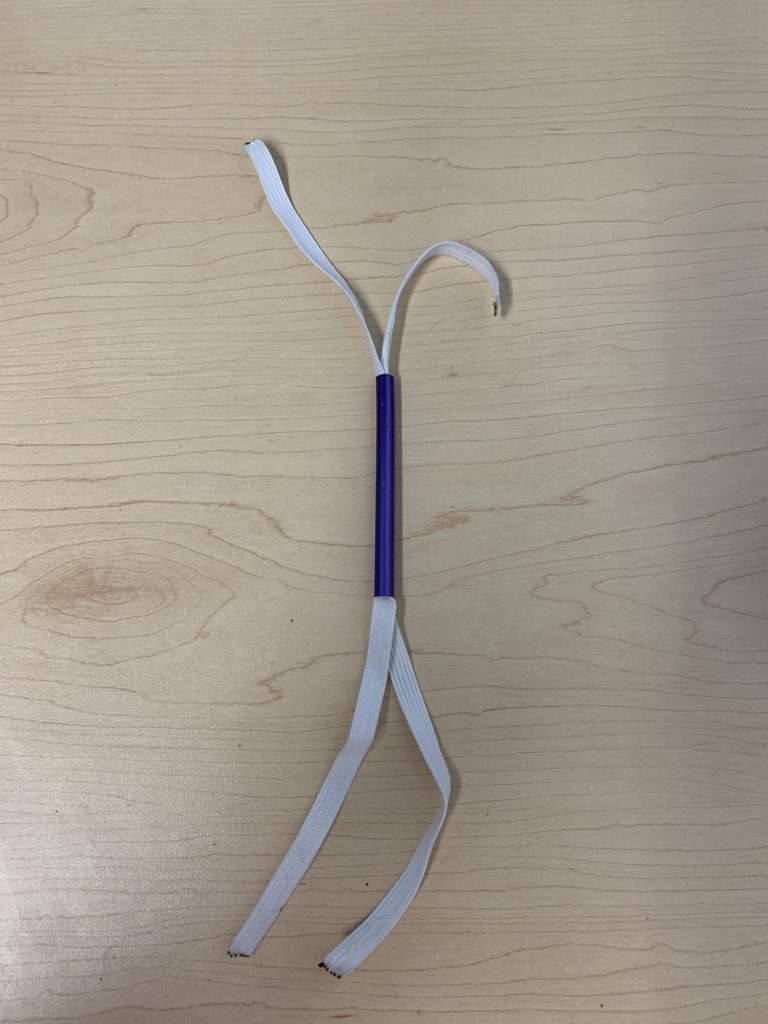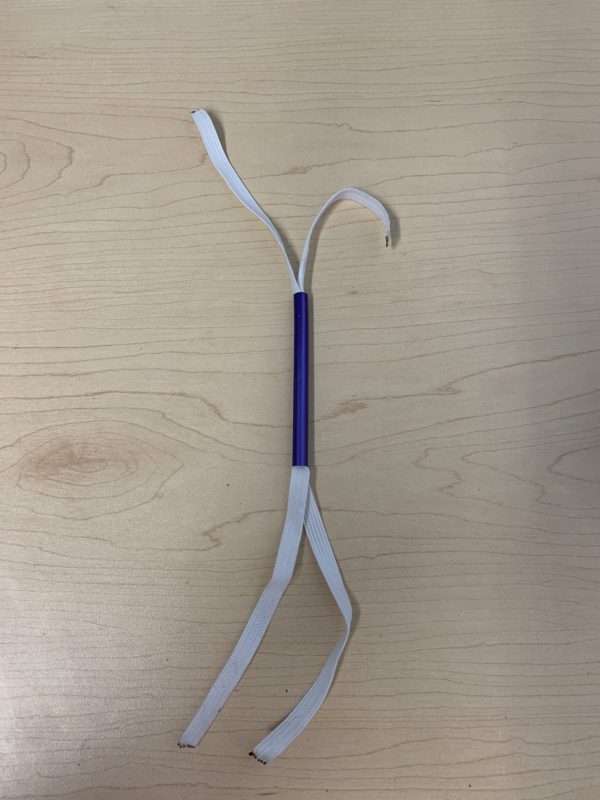 What You'll Need:
– A 11.5cm (4.5inch) length of material that is rigid, hollow and fairly light. We have used a section of a broken aluminium arrow. An old Biro pen works well too.
– Two 35cm (14inch) lengths of elastic material. You can use elastic from an old armguard, elastic bands, old Theraband…etc. There are a lot of choices.
– Two fasteners. I've just used two old tab fasteners in this example.
Making The Expansion Trainer:
Firstly, make sure to smooth off any rough edges you have on the rigid part of the trainer. I cut a section of aluminium arrow in this example. Before I put everything together I thoroughly de-burred and filed the edges so there's no risk of getting cut from a rough part of the arrow.
Next, slightly burn the ends of your pieces of elastic to prevent them fraying. Pass them both through your tubing just like the example in Fig. 3.
Finally, put the fasteners over the pieces of elastic to finish your expansion trainer. It should look similar to our example in the video below.
Depending on your arm size, you might need a smaller or larger diameter arrow to put in your elbow for this drill. You might need to alter the length of the elastic parts too, but this should be a good starting point for most people.
On it's own, this device won't magically make your expansion perfect, but it will definitely help. It's important to also understand what good expansion technique is, you can read more about this on our dedicated page Expansion – Recurve Archery Technique.
Using The Expansion Trainer:
It's a good idea to start at close range blank boss when you first begin using a new drill or tool. Once you've got the hang of it you can quickly progress to longer distances.
The real benefit of using this tool often comes from comparison against what your expansion normally feels like. It's very useful to alternate shooting with and without the expansion trainer. This variation in the feeling of your shot and specifically the expansion stage can help you learn more quickly.